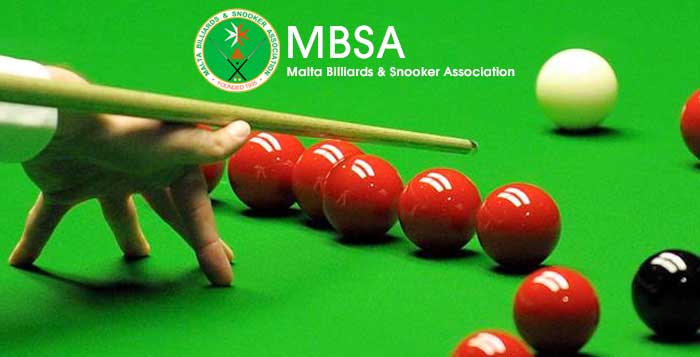 The Malta Billiards and Snooker Association (MBSA) was founded in 1935.
The MBSA is currently affiliated to the Malta Olympic Committee (MOC), The European Billiards and Snooker Association (EBSA) and the International Billiards and Snooker Federation (IBSF).  The Executive Board of the Association is elected every two years and is made up of The President, Vice-President, Secretary, Director of Finance, Public Relations Officer and two members. It also includes two members representing the players and one member representing the Malta Billiards & Snooker Referees Association (MBSRA). The MBSA Annual General Meeting is normally held in September.
The aims and objectives of the MBSA is to develop, promote and co-ordinate on a National level the games of billiards and snooker, organize related events at all levels and raise and maintain the necessary funds to ensure the long term success of the game.
Each year the Association organizes the following National Snooker Competitions:
Premier Division
First Division
Second Division
Third Division
Under 21
Under 16
Masters (Over 40) Championship
Teams Championship
A minimum of 4 Ranking Tournaments
 
The Association organizes also the National Billiards Championship.
The MBSA either hosts or participates on a regular basis in the following International events:
EBSA European Under 21 Snooker Championship

EBSA European Teams Snooker Championships

EBSA European Snooker Championships

IBSF World Under 21 Snooker Championship

IBSF World Team Snooker & 6 Red Championship

IBSF World Billiards Championship

IBSF World Snooker Championships
Participation for the above international events is guaranteed through the financial assistance provided by the Malta Sports Council (KMS) and the Malta Olympic Committee (MOC).  To ensure continuity and stability of the game in the future, the MBSA are also in the process of establishing an academy for young aspiring players.  This way, the initial objectives the Association was set up for may be achieved.